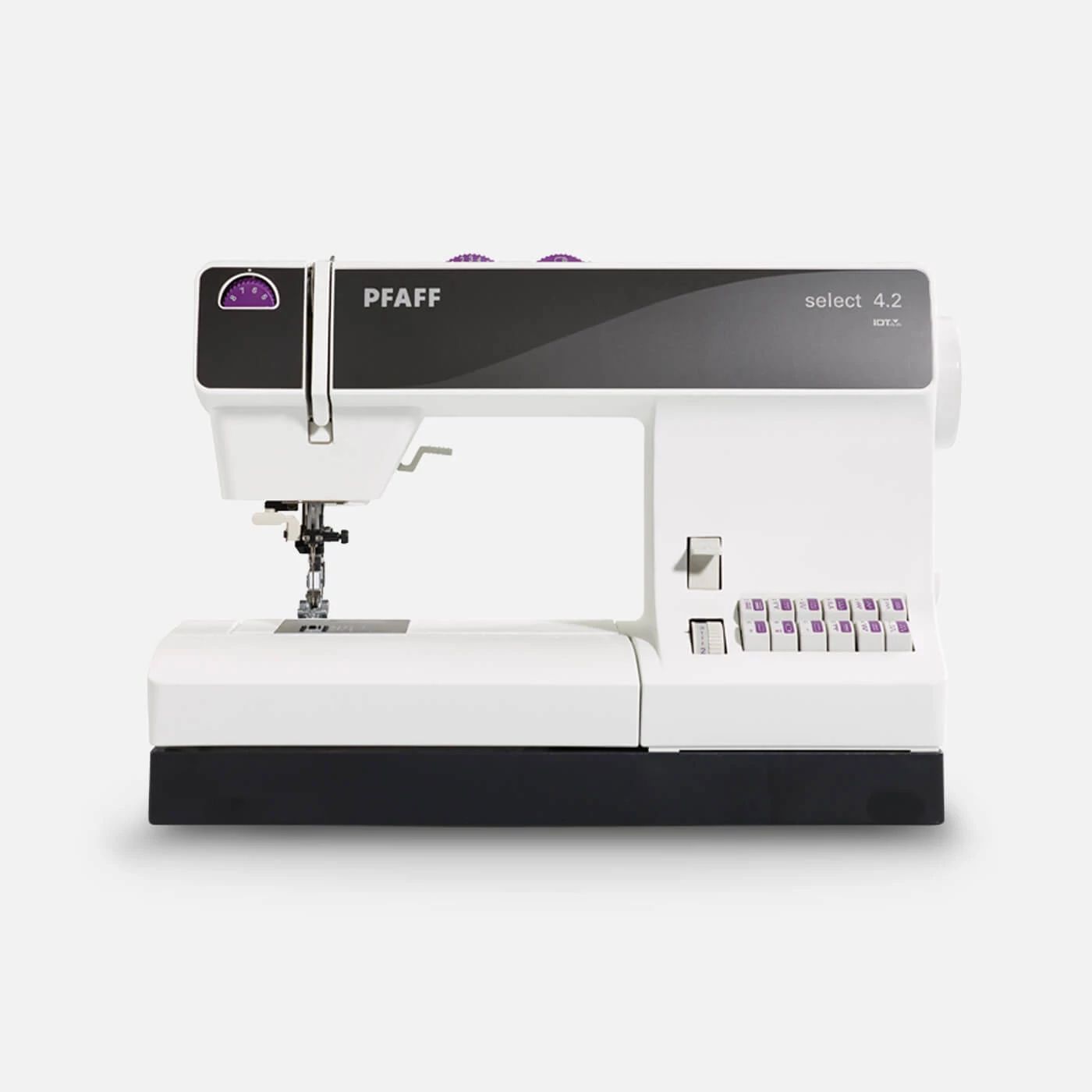 select™ 4.2 Sewing Machine
Essential features. Undeniable quality.
Convenient Financing at Checkout
We're sorry, this item is out of stock online. Please check with your closest store for availability.
Find A Store
Unwavering versatility and ease
Enjoy all the convenience of modern technology plus a few extras that will make your sewing even more fun and creative. Explore the possibilities.
At A Glance
The Original IDT™ System
Easy select™ System
Integrated Needle Threader
Constant Needle Piercing Power
View all compatible accessories
Free Shipping

Get A Demonstration In Store

Have a qualified trade-in?
Constant Needle Piercing Power
Gives stitch by stitch control and full piercing power at any speed.
LED Lights
Optimized bright lights illuminate the entire work area with no shadows.
Adjustable Needle Positions
Control the position of your needle for exact placement of your straight stitch.
Bobbin Winding from Needle
No need to unthread your machine! Wind bobbins directly from the needle. Stops automatically when bobbin is full.
Sew Slow
Choose full or half speed with the slider on the foot pedal for more control.
Adjustable Stitch Width
Vary the stitch width to what's best for your project. Great for decorative techniques like appliqué or tapering.
Additional Features
# Stitches

Max Stitch Width

Max Stitch Length

Sewing Space (Needle to Tower)

Needle Threader

Thread Cutter

Speed Control

Max Sewing Speed

IDT™ System

Thread Tension

# Included Accessories
Technologies

The Original IDT™ System
Easy select™ stitches

Features

Free-Motion sewing
Extra Presser Foot Lift
Swing-away accessory tray with insert
Included Accessories
Standard Presser Foot with IDT™ system
Fancy Stitch Foot with IDT™ system
Clearview Foot
Blindhem/Overlock Foot with IDT™ system
Zipper Foot with IDT™ system
Buttonhole Foot
Darning Foot
Rolled Hem Foot, 3mm with IDT™ system
Edge Guide/Quilting Guide
Felt pad
Spool caps, small/medium/large
Needles
Extra spool pin
Seam ripper
Brush
Bobbins
10-Year Warranty
Machine Documents
Machine Registration
Registration activates machine warranty and updates.
Need More Help ?
We are at your service. Click below to contact us, see FAQs or find a menu of self-serve support. Your satisfaction is our #1 priority!