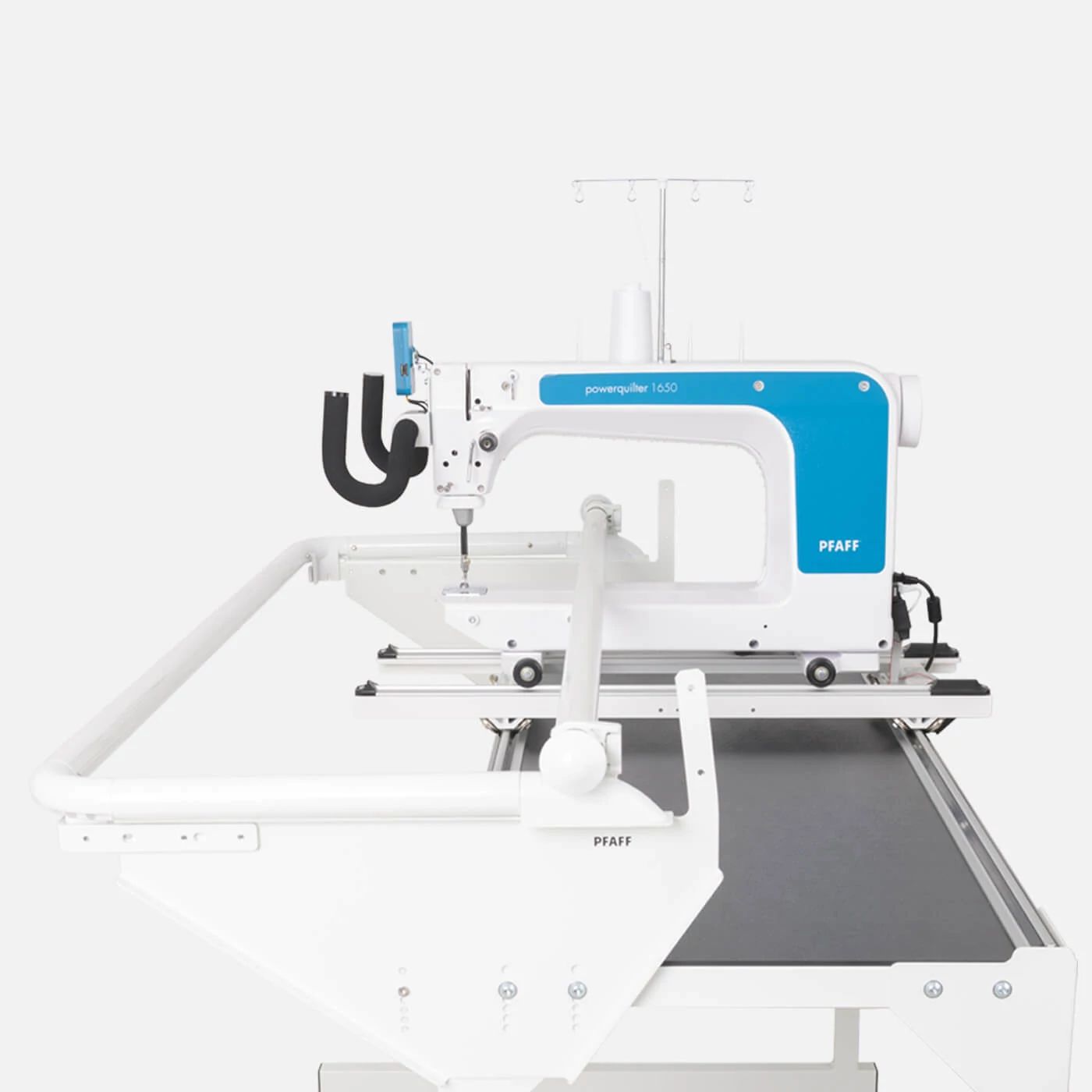 powerquilter™ 1650 Long Arm Quilting Machine
The perfect machine & frame for free-motion quilting
We're sorry, this item is out of stock online. Please check with your closest store for availability.
Find A Store
Quilt large projects with room to spare
Professional results in a 16" (406 mm) stationary longarm quilting machine and frame, designed with built-in tools for extra precision.
At A Glance
LED Lighting
2 Stitch Regulation Modes
Color Touch Screen
1,800 stitches per minute
Smooth Glide Track System
Extra Large Machine Space
View all compatible accessories
Free Shipping

Get A Demonstration In Store

Want a hands-on demo of your favority PFAFF products? Visit a friendly PFAFF store location anytime. Our experienced staff is here to help.

Have a qualified trade-in?
Color Touch Screen
Provides quick access to machine features and settings. Conveniently located between the handlebars, allowing for quick changes.
Fast Sewing Speed
Complete your projects in no time with stitching speeds up to 1,800 stitches-per-minute. Designed with 2 customizable speed settings.
Smooth Glide Track System
From large sweeping movements to small calculated designs, you will always be able to move your machine easily and gracefully. 
Ergonomic Design
Ergonomic handlebars are padded with the perfect curve to keep you comfortable while stitching. Plus, needle changes are easy with the ergonomic thumb screw.
Needle Up/Down
Conveniently access the Needle Up/Down function on the top of your handlebars to set the needle to stop down in the fabric or in the highest position.
2 Feet Included
The ¼" Ruler Foot and the Open-Toe Foot are included with the machine for more versatility right out of the box.
Additional Features
# Stitches

Sewing Space (Needle to Tower)

Screen Size

Needle Threader

Needle Up Down

Thread Cutter

Speed Control

Max Sewing Speed

Start Stop Button

Bobbin Thread Sensor

Thread Tension

Side Motion

# Included Accessories
Technologies

Optical Stitch Regulation
Project Tracking Tools
Built-In Diagnostics

Features

On-Screen Project Tools
4-Thread Spool Stand
Large capacity M-Size Bobbin
Built-In Diagnostics
Easy Release Take-Up Bar
Multiple languages
USB ports for software updates & more
 
Visit a PFAFF store location for an in-person demonstration and to purchase this machine.
Included Accessories
Frame with adjustable height
Lint brush
Bobbins (4 pieces)
INSPIRA™ Needle (134R Titanium) size 16 (pack of 10)
Bobbin Case
Thread stand
Pen Oiler
Screwdriver
Power Cord
2.5 mm hex tool
3 mm hex tool
Open-toe Foot (Ruler foot installed)
Bobbin Winder and accessories
Carriage
Front handlebars
Front display
Cables
10-Year Warranty
Machine Documents
Machine Registration
Registration activates machine warranty and updates.
Need More Help ?
We are at your service. Click below to contact us, see FAQs or find a menu of self-serve support. Your satisfaction is our #1 priority!