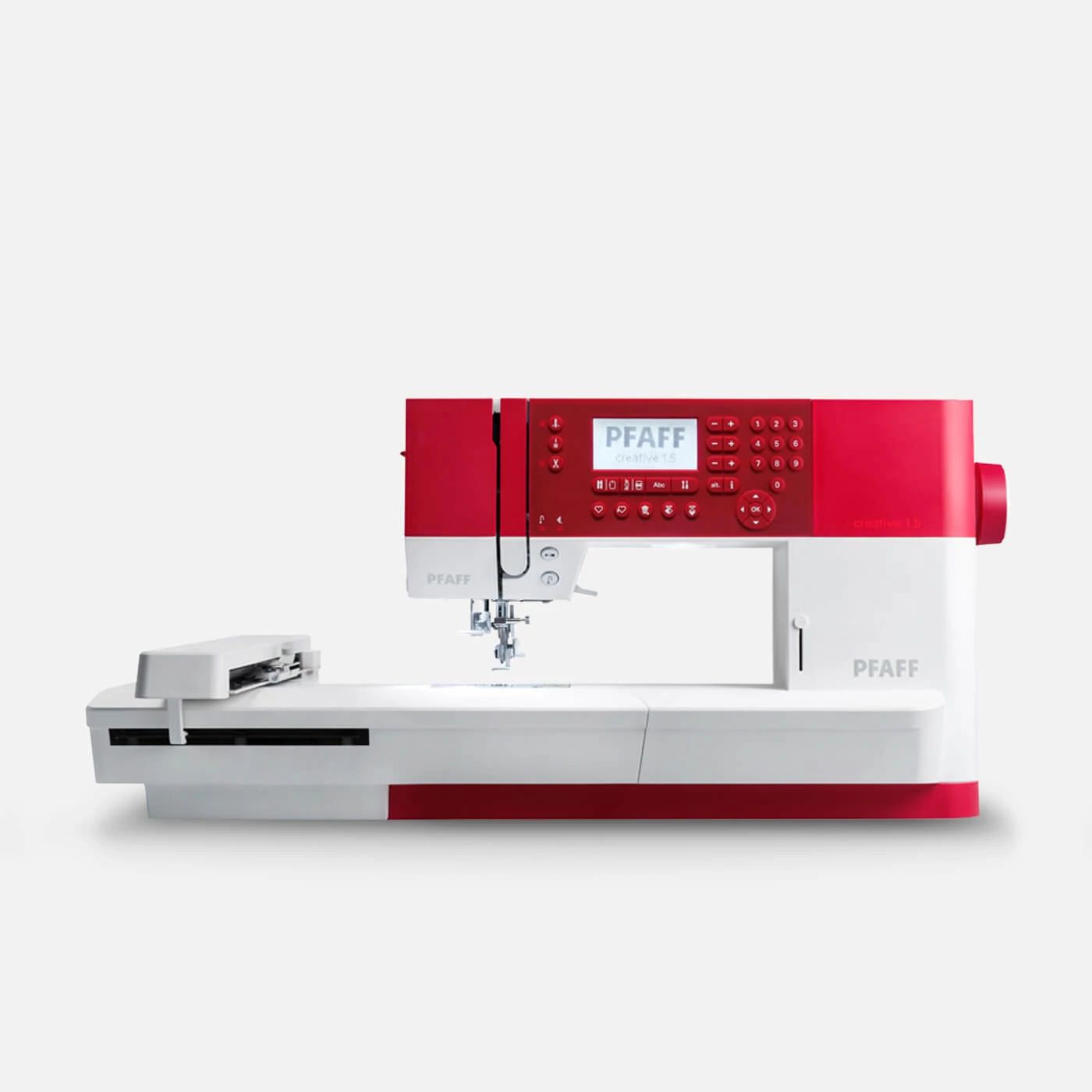 creative™ 1.5 Sewing and Embroidery Machine
Amplify your creativity
Create one-of-a-kind designs
With the PFAFF® creative™ 1.5 sewing and embroidery machine it is easy and exciting to customize your projects. Loaded with advanced features and the Embroidery Intro PC Software, you will have unlimited creative freedom.
At A Glance
IDT™ Integrated Dual Feed
Large embroidery area
HIgh embroidery speed
Embroidery Intro software included
200mm sewing space (almost 8")
View all compatible accessories
Free Shipping

Get A Demonstration In Store

Want a hands-on demo of your favority PFAFF products? Visit a friendly PFAFF store location anytime. Our experienced staff is here to help.

Have a qualified trade-in?
Embroidery Intro Software Included
Enjoy complete creative freedom on your PC or MAC.  Included software enables you to adjust, personalize and combine your embroidery designs. (English only)
Large Sewing Space
With 200mm of sewing space (almost 8"), sew large amounts of fabric or batting with ease. Perfect for quilting, home decor, fashion and more.
Electronic Thread Tension
Optimal needle thread tension is set electronically for every stitch and embroidery – making sewing simple.
Scale
Increase or decrease your embroidery designs up to 20% from the original size to fit your project perfectly.
Needle Up/Down
Set your needle to stop up or down in the fabric for quicker pivoting, appliqué and more.
Thread Snips
Automatically cuts top and bobbin thread at the touch of a button. It's a real time saver.
Additional Features
# Stitches

Max Stitch Width

Max Stitch Length

# Sewing Fonts

Sewing Space (Needle to Tower)

Screen Size

Needle Threader

Needle Up Down

Thread Cutter

Speed Control

Max Sewing Speed

IDT™ System

Max Embroidery Area

9.4" x 5.9" (240 x 150 mm)

Start Stop Button

Automatic Feed Dog Drop

Thread Tension

Stitch Sequencing

# Built-In Embroidery Designs

# Embroidery Fonts

Auto-Cut Embroidery Jump Stitches

# Included Accessories
Technologies

Features

101 Embroidery Designs Included
USB Connection / 4GB USB Embroidery Stick
Personal Stitch Settings
Free-Motion Sewing
Stitch Width Safety
Immediate Thread Tie-Off
Info Button
Multiple Languages in Settings Menu
Bobbin Winding from the Needle
Included Accessories
101 embroidery Designs created by fashion designers, offering a high quality mix of sizes and techniques
0A - Standard presser foot with IDT™ system
1A - Fancy stitch foot with IDT™ system
2A - Fancy stitch foot
3 - Blindhem foot for IDT™
4 - Zipper foot for IDT™ system
5 - One step buttonhole foot
5M - Manual buttonhole foot
6 - Embroidery/free-motion foot
Thread net
Edge guide
Felt pad (2)
Screwdriver
Auxiliary spool pin
Seam ripper
Brush
Bobbins (5)
Screwdriver for needle plate
Spool caps: small (1), large (1)
USB embroidery stick with embroidery designs
PFAFF® creative™ 1.5 embroidery collection booklet
Multi-purpose tool
10-Year Warranty
Machine Documents
Machine Registration
Registration activates machine warranty and updates.
Need More Help ?
We are at your service. Click below to contact us, see FAQs or find a menu of self-serve support. Your satisfaction is our #1 priority!
Other Machines in the Series