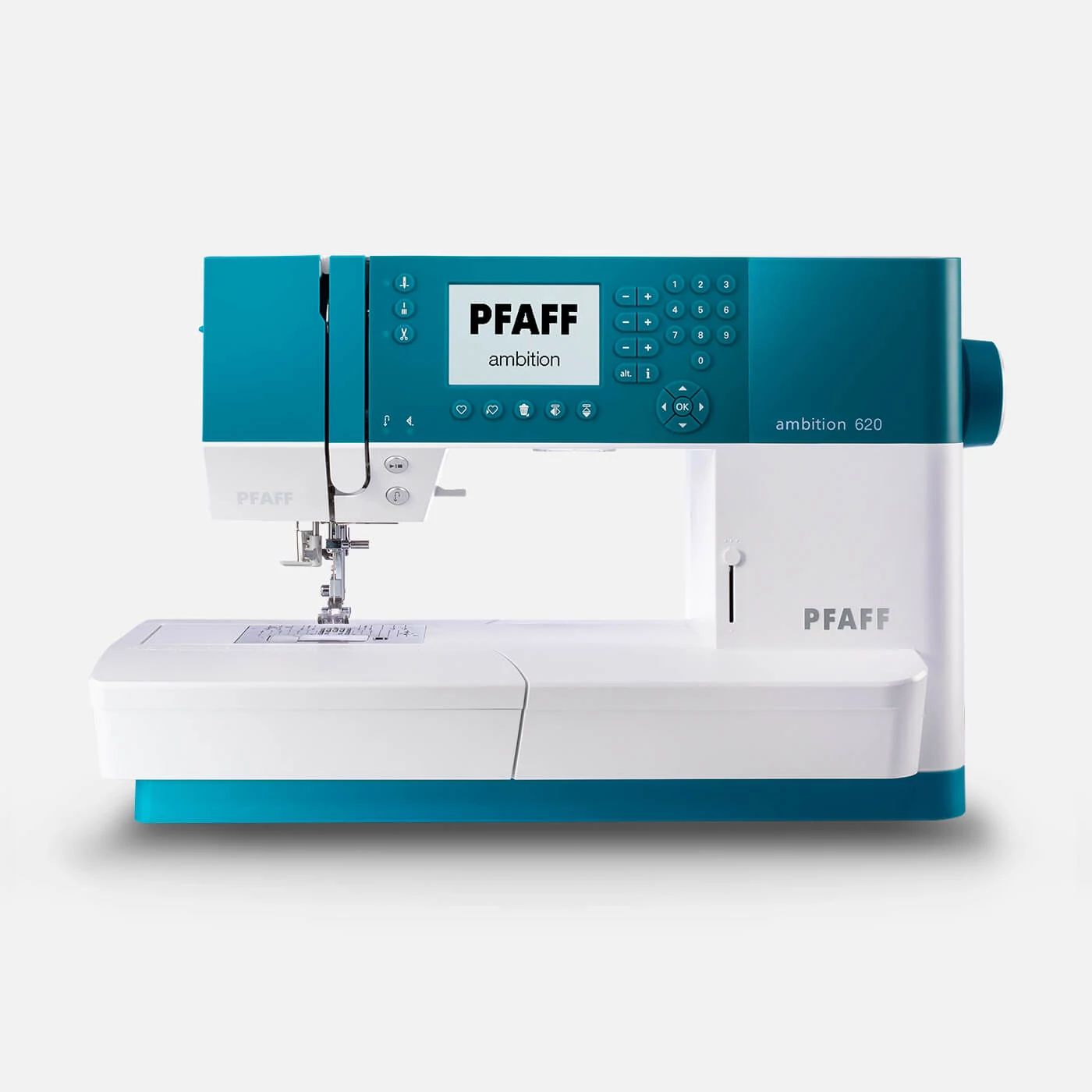 ambition™ 620 Sewing Machine
Enduring Precision
Convenient Financing at Checkout
We're sorry, this item is out of stock online. Please check with your closest store for availability.
Find A Store
The craftperson's most dependable tool With intuitive functionality and limitless potential, discover the difference of enduring precision in the PFAFF®.
At A Glance
IDT™ Integrated Dual Feed
Large 200mm sewing space (almost 8")
LCD screen
136 stitches
Speed Slider
View all compatible accessories
Free Shipping

Get A Demonstration In Store

Have a qualified trade-in?
Large Number of Stitches
Be astonished by the fascinating selection of 136 high-quality stitches – unique embellishments, stitched perfectly up to 7mm.
Speed Slider
Speed Slider Adjust sewing speed with the speed slider for full control.
Needle Up/Down
Needle Up/Down Set needle to stop up or down in the fabric for pivoting, appliqué and more.
Mirror Image of Stitches
Mirror Image of Stitches Flip the stitch side to side for even more possibilities.
Stitch Elongation
Elongation Lengthen satin stitches and the entire stitch will be longer but density remains the same.
Twin Needle Program
Twin Needle Program Enter twin needle size to automatically adjust the stitch width. See the twin needle stitch on the screen.
Adjustable Needle Positions
29 needle positions for precision placement when topstitching, edge stitching, under stitching, quilting or stitching-in-the-ditch.
Automatic Needle Threader
Makes threading easy and reduces eye strain.
Additional Features
# Stitches

Max Stitch Width

Max Stitch Length

# Sewing Fonts

Sewing Space (Needle to Tower)

Screen Size

Needle Threader

Needle Up Down

Thread Cutter

Speed Control

Max Sewing Speed

IDT™ System

Start Stop Button

Automatic Feed Dog Drop

Thread Tension

Stitch Sequencing

# Included Accessories
Technologies

The Original IDT™ System
Twin Needle Program

Features

Stitch Width Safety
1-Step Buttonhole
Free-Motion Sewing
Immediate Tie-Off
LED Illuminated Workspace
Extra Presser Foot Lift
Info Button
Presser Foot Pressure
Bobbin Winding from the Needle
Jam Proof Rotary Hook
Multiple Languages in Settings
Inches/cm Ruler on the Accessory Tray
Hard Cover
Included Accessories
Standard presser foot 0A with IDT™system
Fancy stitch foot 1A with IDT™system
Fancy stitch foot 2A
Blindhem foot 3 with IDT™system
Zipper foot 4 with IDT™system
One-step Buttonhole foot 5
Hard Cover
10-Year Warranty
Machine Documents
Machine Registration
Registration activates machine warranty and updates.
Need More Help ?
We are at your service. Click below to contact us, see FAQs or find a menu of self-serve support. Your satisfaction is our #1 priority!
Other Machines in the Series