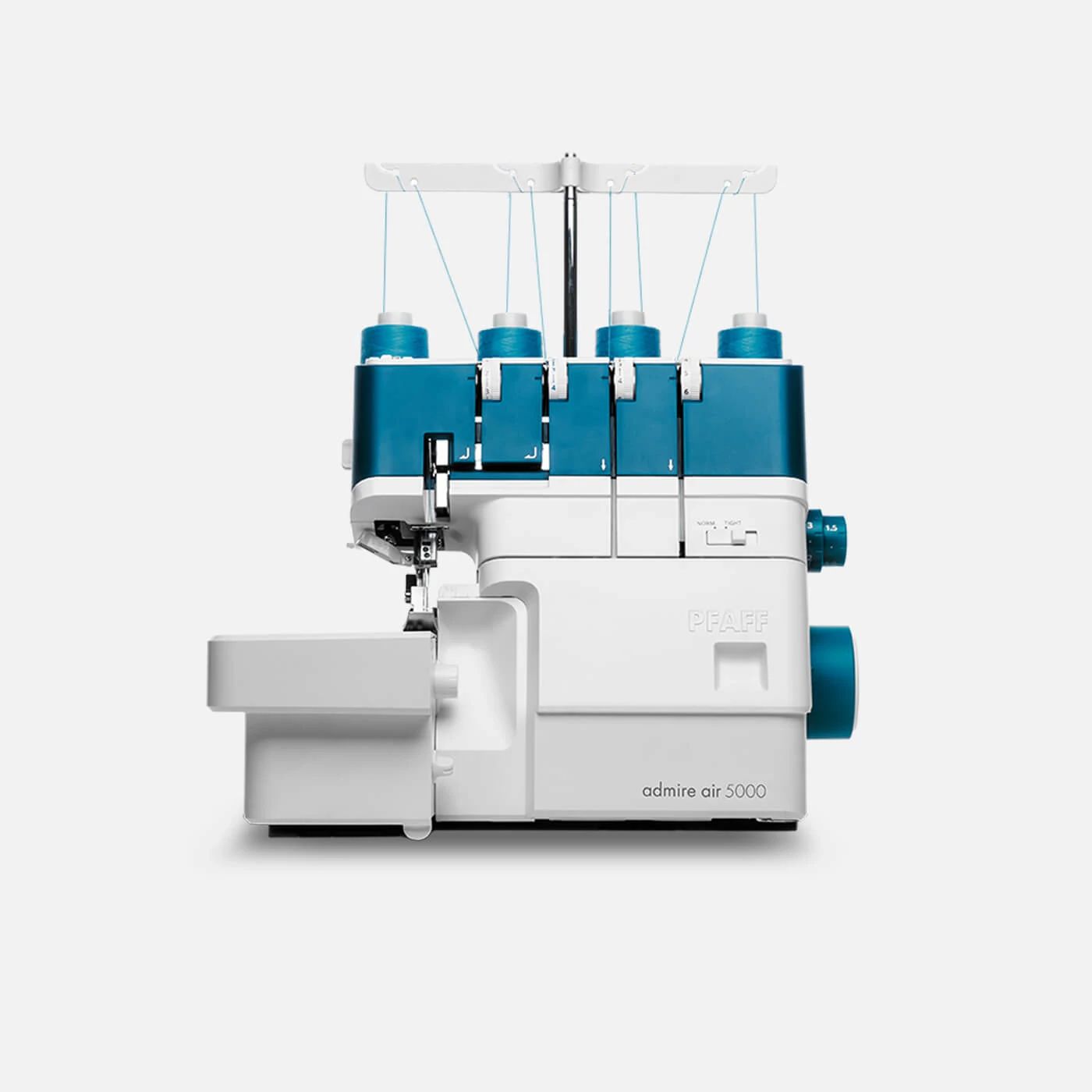 admire™ air 5000 Overlock Machine
An air of artistry
Convenient Financing at Checkout
We're sorry, this item is out of stock online. Please check with your closest store for availability.
Find A Store
Easy threading. Beautiful overlocking.
Create more inspirational projects than ever before with the help of the PFAFF® admire™ air 5000 one-touch air-threading overlock machine.
At A Glance
4, 3, 2 thread sewing
1-Touch air threading
15 stitches
Built-in needle threader
Differential feed
View all compatible accessories
Free Shipping

Get A Demonstration In Store

Want a hands-on demo of your favority PFAFF products? Visit a friendly PFAFF store location anytime. Our experienced staff is here to help.

Have a qualified trade-in?
Differential Feed
Adjustable for perfectly even seams, no stretching of the seam or puckering of fine fabrics. Can be used for automatic gathering.
LED Lights
Illumination of the sewing area for optimal visibility.
Lay-In Tension
Lay-In Tension For quick and convenient threading.
Adjustable Stitch Length, Cutting Width and Presser Foot Pressure
Precision settings provide always-neat edges for a wide variety fabric types, thicknesses, and sewing techniques.
Extra Presser Foot Height
Extra Presser Foot Height Provides room for several layers or heavy fabrics.
Thread Snips
Conveniently located to quickly trim your thread chain.
Additional Features
# Stitches

Needle Threader

Thread Cutter

Max Sewing Speed

Thread Tension

# Included Accessories
Technologies

1-Touch Air Threading (Lever)

Features

Stitch Safety Lock
Built-In 2-Thread Converter
Electronic Speed Control
Waste Tray attachment
Included Accessories
Universal Standard Presser Foot
Screwdriver (large)
Screwdriver (small)
Double-ended wrench
Tweezers
Needle set - (HAx1 SP#11)x2, (HAx1 SP#14)x3
Thread nets
Spool holder
Lint brush
Waste tray
Needle holder/converter pin
Upper cutter
Looper threading wire
Accessory box
Foot control
Cover
5-Year Warranty
Machine Documents
Machine Registration
Registration activates machine warranty and updates.
Need More Help ?
We are at your service. Click below to contact us, see FAQs or find a menu of self-serve support. Your satisfaction is our #1 priority!
Other Machines in the Series