UP TO 30% OFF
Available in Stores
PART # 821398096
Tear-a-Way Sticky Stabilizer 12" x 10 Yards
Specialty type: Embroidery
We're sorry, this item is out of stock online. Please check with your closest store for availability.
Find A Store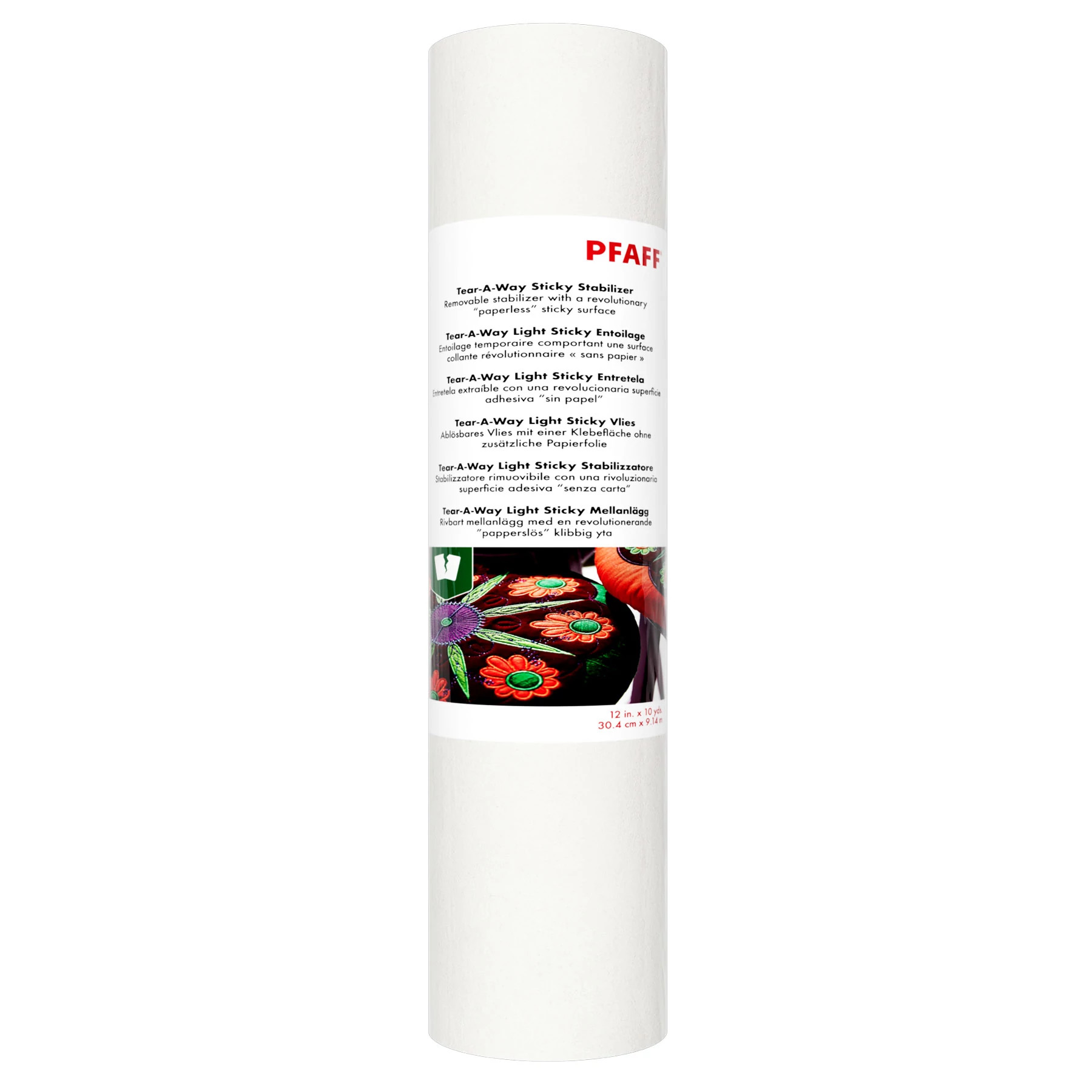 Up to 30% Off Accessories & Notions
Spend $100 on accessories & notions, get 20% Off. Spend $250, get 25% Off, or Spend $500 or more, get 30% Off.  (see discount in your shopping cart).
An adhesive surfaced stabilizer
PFAFF® Tear A Way Sticky is an adhesive surfaced stabilizer. The strong tacky surface is strong enough to hold your item in the hoop securely. The adhesive surface is covered with a paper layer to protect the adhesive surface until needed.
Recommended uses: Use for small items not large enough to hoop. Also, perfect for heavier fabrics too thick to hoop such as canvas, jeans, leather or thick vinyl. PFAFF® Stick -On is perfect to hold in place the front or brim of hats, purse straps, belts, collars, cuffs, pant legs, and unevenly shaped items not fitting in hoop. 
Instructions: 
For Non-Hoop process (also known as "Hoop-less" embroidery): 
• Cut piece of Tear A Way Sticky stabilizer at least 1" larger than hoop. 
• Place stabilizer piece on flat surface with paper covered adhesive side up. 
• Starting at one top corner of hoop, gently score paper covering by running needle or pin point across paper to bottom opposite corner of hoop. Repeat with other corner to corner scoring. This forms an "X". Be careful not to slice all the way through adhesive layered paper. Peel back paper to expose adhesive layer.
• Position back of outer hoop ring on exposed adhesive area (this process does not require inner hoop ring).
• Position wrong side of fabric on adhesive surface area desired for embroidery. Can be repositioned with very slight loss of adhesive stick.