30% OFF IN CART
Available in Stores
PART # 821415096
Dissolve-a-Way Max Stabilizer 12" x 10 Yards
Specialty type: Embroidery
We're sorry, this item is out of stock online. Please check with your closest store for availability.
Find A Store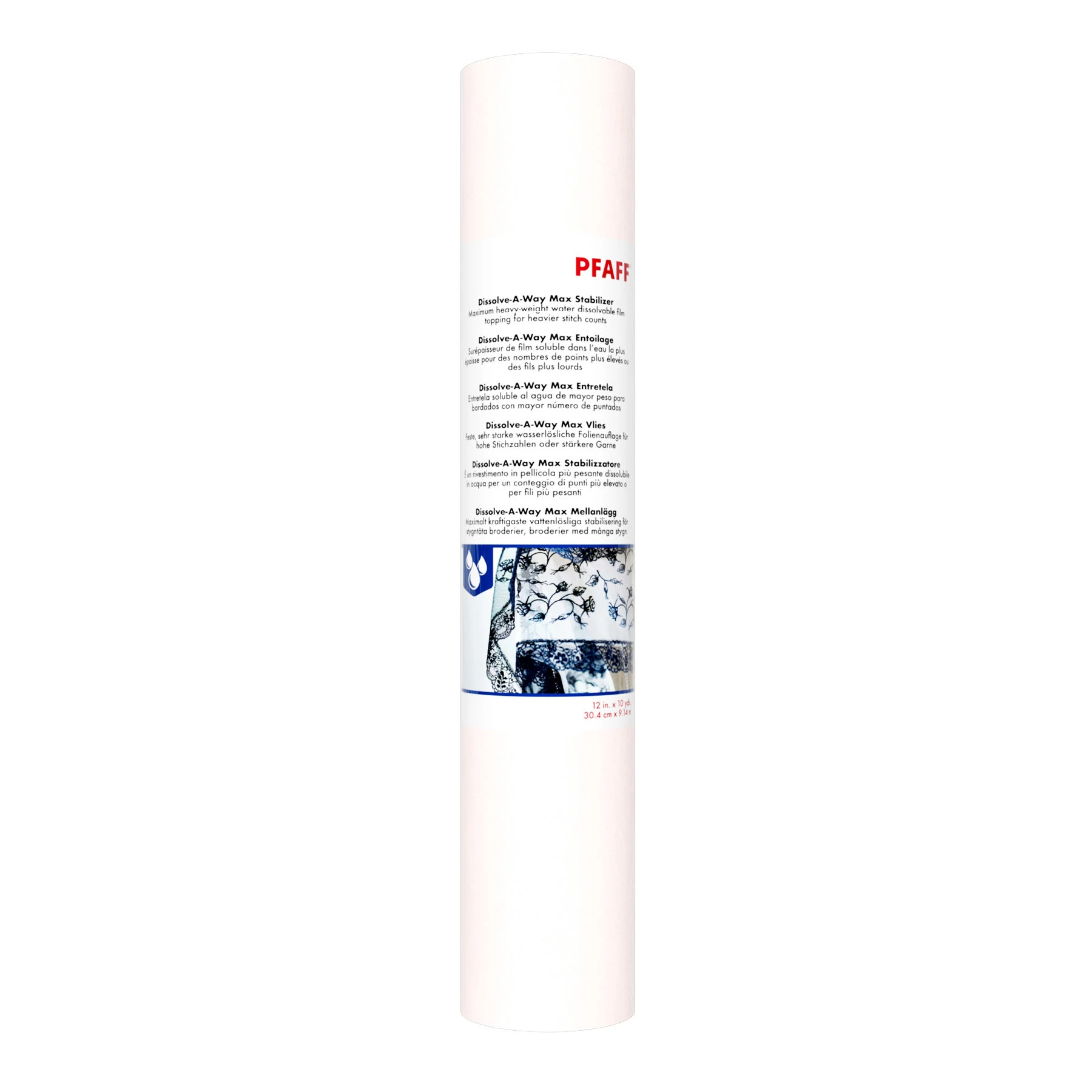 Maximum heavy-weight water dissolvable film topping for heavier stitch counts
PFAFF® Dissolve-A-Way Max is our maximum heavy-weight water dissolvable film topping for heavier stitch counts or heavier thread weights or for stabilizer-only hoop embroideries. It is great for embroidery projects like lace, 3D appliqué, cutwork, embroidery on towels and other applications where it is desirable for the stabilizer to be removed completely. Dissolve A-Way Max stabilizer can be used as topper for medium weight, coarsely woven fabrics, like duck cloth, to prevent the stitches from being distorted by the weave.
Recommended uses: 
Dissolve-A-Way Max used as topper is used on high nap or loft pile fabrics and heavier weight thread stitching on high nap. It's a must for heavier weights of terry cloth, corduroy, and fleece Heavy stitch count or using heavier weight threads requires a heavier topper weight to maintain coverage. Use as stabilizer-only in the hoop for high stitch count or heavier thread weight lace embroidery, multiple or heavier weight fabric layer appliqué, or 3-D thread//yarn with high density of filled or decorative stitching.  
Instructions: 
As topper:  
Method One is to place Dissolve-A-Way Max on top of fabric then hoop normally and embroider. 

Method Two is to hoop fabric first, place piece of Dissolve-A-Way Max on top, secure with basting stitch before beginning embroidery process.  
As a Stabilizer: 
For higher stitch count lace designs, heavier thread weights, appliqué or 3-D texture piece, hoop 1-2 layers of Dissolve-A-Way Max stabilizer. Pull stabilizer edges gently to tighten and secure in hoop. Be careful not to stretch film as you tighten. 

When completed, tear away as much of the film as possible. 

Removal of remaining is best in a warm water bath, soaking for 10 minutes. Move around continuously. Repeat until completely removed. Rinse in warm water. 

Dissolve-A-Way Max can be removed also by medium to heavy steam, or moisten and blot

ted away with a wet sponge

Place item on flat surface until thoroughly dry.