UP TO 30% OFF
Available in Stores
PART # 821291096
Denim Needles Size 90/14
Specialty type: Mending & Alterations
We're sorry, this item is out of stock online. Please check with your closest store for availability.
Find A Store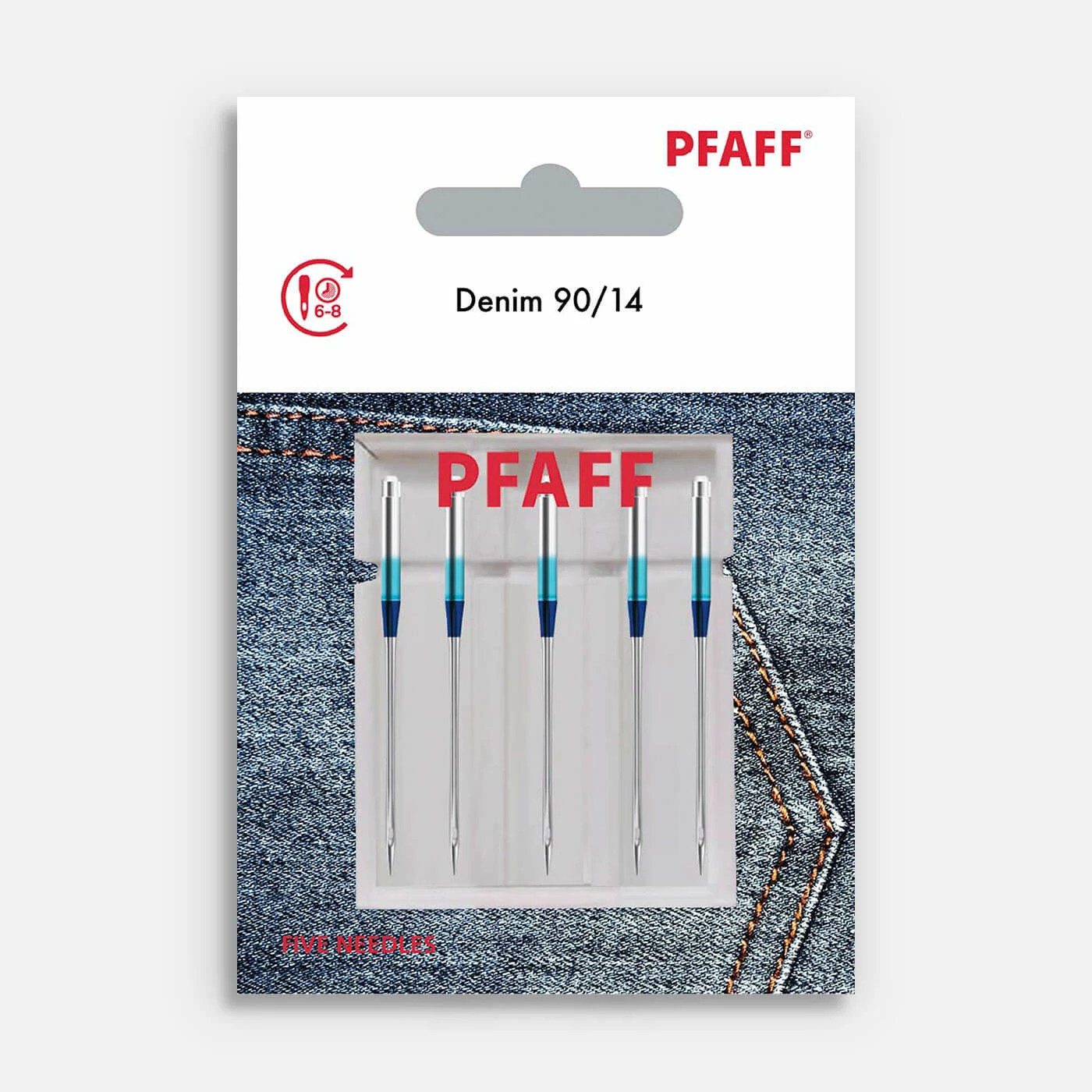 Up to 30% Off Accessories & Notions
Spend $100 on accessories & notions, get 20% Off. Spend $250, get 25% Off, or Spend $500 or more, get 30% Off.  (see discount in your shopping cart).
Needles specially designed to work with denim fabrics
Reduces breakage and skipped stitches due do reinforced blade with the rounded tip and tapered end. For optimum performance, change your needle every 6 - 8 hours of sewing and/or type of fabric.
At A Glance
5 Count, Size 90/14
Designed for light/medium weight denim and wovens
Reinforced blade with the rounded tip and tapered end reduces breakage and skipped stitches
(tap letter to learn more)
All PFAFF® sewing machines
Stronger Steel
Stronger needles stay sharp and last longer to stitch cleanly through any material.
Smooth Thread Handling
PFAFF® needles have perfectly rounded edges, eye and grooves. You will have 100% burr free protection with your threads and fabrics while sewing.
Superior Needle Stiffness
PFAFF® high quality cold forged steel sewing machine needles are manufactured with an exclusive flow pressing technique. This dlivers incomparable bending stillness to avoid needle breakage and skipped stitches.
Shape Resilience
PFAFF® exclusive Delta-U needle groove delivers more extreme needle bendability. Your needle will rebound to shape, producing a more accurate stitch.
Stitch Integrity
PFAFF® proprietary CAE (Clearance Above Eye) needle design improves the thread-catching clearance. You'll experience fewer skipped stitches and less risk of collision with the bobbin case.
Threading Ease
A larger needle eye allows for an easier, faster, and more satisfying threading experience.
Insert Ease
PFAFF® T-shaped needle head makes it easy to insert into your machine.