30% OFF IN CART
Available in Stores
PART # 821404096
Aqua Magic Plus Stabilizer 15" x 10 Yards
Specialty type: Embroidery
We're sorry, this item is out of stock online. Please check with your closest store for availability.
Find A Store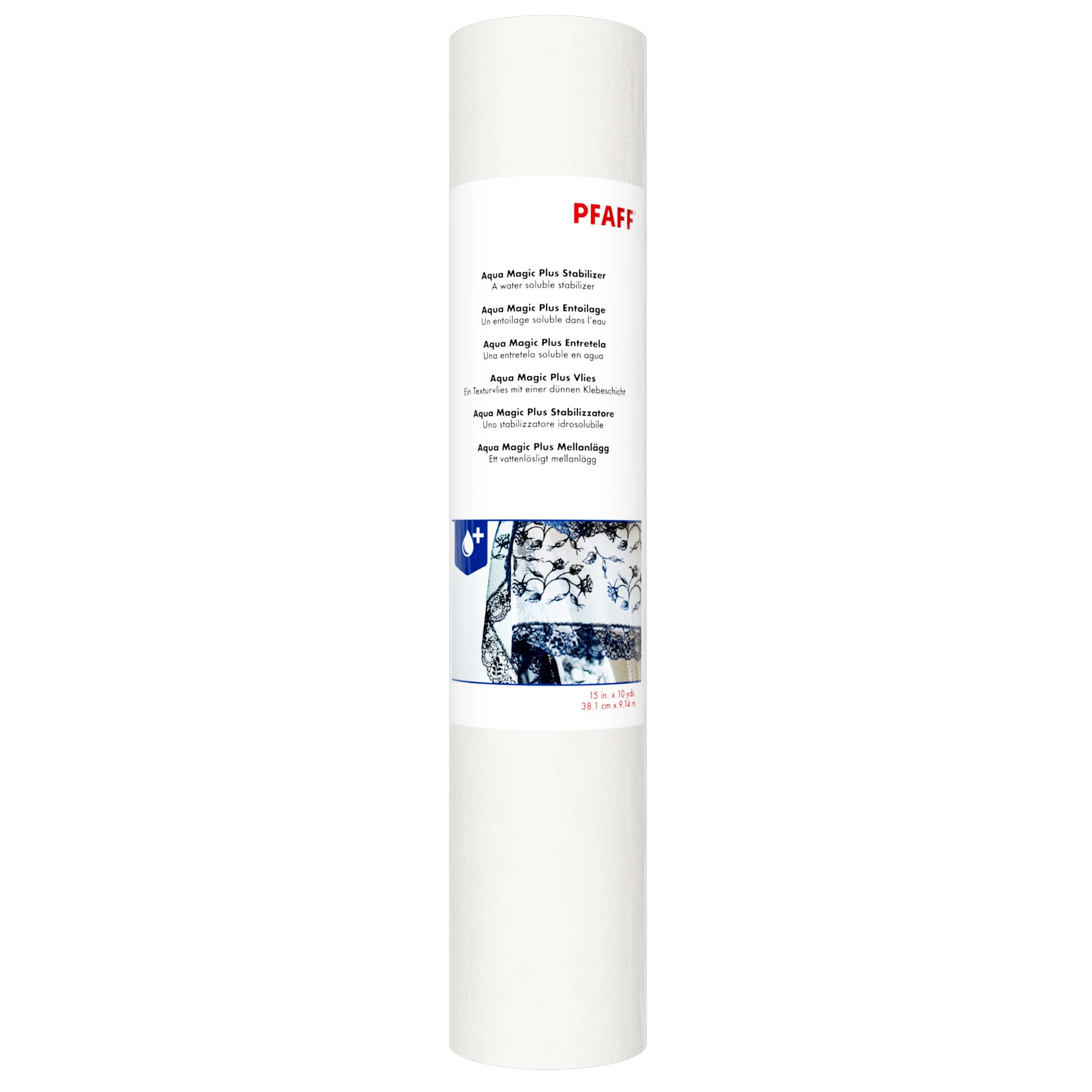 A water soluble stabilizer 
PFAFF® Aqua Magic Plus is a water soluble stabilizer with the addition of a water dissolvable adhe sive. PFAFF® Aqua Magic Plus is a fabric-like stabilizer with a thin layer of adhesive that allows you to "stick" your fabric to the stabilizer in the hoop. It is great for small items or fabrics that should not  be hooped. Because PFAFF® Aqua Magic Plus stabilizer rinses away completely, it will leave your project soft and pliable, not stiff. 
Recommended uses: 
This is a must for those beautiful all-yarn decorative stitched scarves. The adhesive holds in place rib bons, yarns, fabrics and any other creative materials you would like to hold in place.  It can be substituted for applications requiring sticky-type stabilizer, such as small items not fitting in a hoop or "hoop-less" embroidery with the added benefit of all stabilizer dissolving away.  Perfect for light to medium weight wovens, light to medium weight knits – including "slinky" knit,  batiste, organza, organdy, chiffon, tulle, netting, towels/terry cloth, minkee and polar fleece.
Instructions: 
Cut Aqua Magic Plus stabilizer large enough to fit in hoop (hoop dimension plus at least 1" on all four sides). 

Hoop with paper side up, score release paper with an X using a needle or pin. Peel back paper to expose the tacky surface. Place article to be embroidered, with right side up, in center of exposed sticky surface.  

To make yarn or ribbon scarves, lay the ribbons and yarns on the sticky surface and then cover with a water dissolvable film prior to embroidering.  

When completed, cut away outer edge and submerge in plenty of warm to hot water. Move item around continuously to remove all stabilizer fibers.

Keep submerged in hot water bath for 10 minutes. 

Rinse thoroughly with very warm water. Repeat process if needed for dense stitching or heavier fabrics. 

In case of hard water, use a water softener or distilled water for improved dissolvability. 

Place item on flat surface until thoroughly dry