UP TO 30% OFF
Available in Stores
PART # 821370096
5/8" Quilt Binder
Specialty type: Quilting
We're sorry, this item is out of stock online. Please check with your closest store for availability.
Find A Store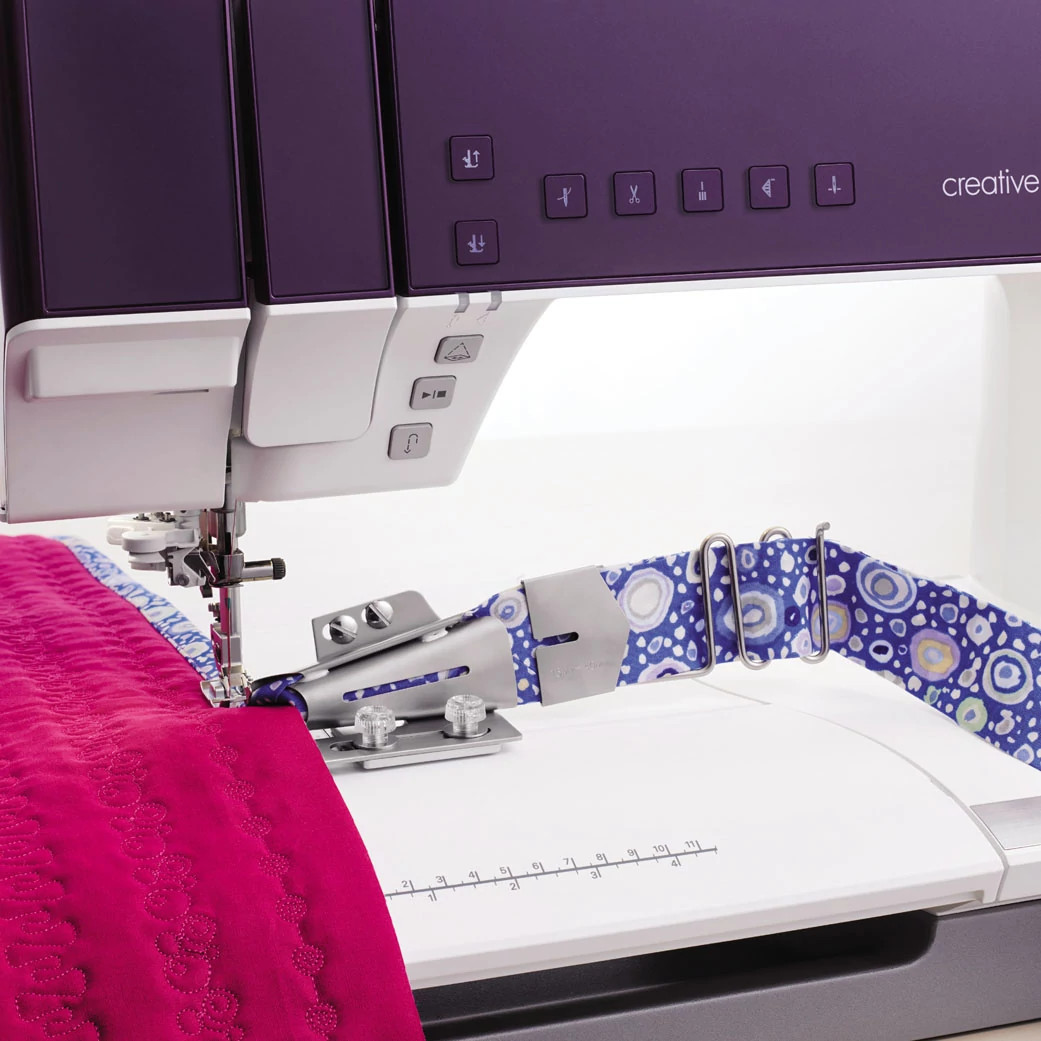 Up to 30% Off Accessories & Notions
Spend $100 on accessories & notions, get 20% Off. Spend $250, get 25% Off, or Spend $500 or more, get 30% Off.  (see discount in your shopping cart).
 Easily add a 5/8" double layer of binding to your projects
This larger quilt binder creates a ⅝" wide binding and uses 3" wide strips folded lengthwise to create a stronger more professional edge, similar to binding by hand.
At A Glance
Industrial style binder, gives a professional result to all projects.
Wider 5/8" (15mm) finished binding, perfect for larger projects.
Works with a folded strip of binding fabric to give a stronger more hand look feel.
(tap letter to learn more)
*Compatible when used with Stitch Plate 412964309:
creative sensation pro 2, pro
creative sensation
creative vision
creative 4.5, 4.0, 3.0, 2.0
creative performance
performance 5.2, 5.0
quilt expression 4.2, 4.0
expression 3.5, 3.2, 3.0, 2.0, 150
1. Attach the Quilt Binder Foot and engage the IDT. Set the machine for straight stitch or hand look quilt stitch. Place the attachment plate on the stitch plate of the machine. Align pin on the back of attachment plate to the top opening on the stitch plate of the machine. Screw the attachment plate in place with one thumb screw.
2. Place the binder on the attachment plate.
3. Adjust the binder into place and attach it with the two thumb screws and washers.
4. Measure the length of your project and add at least 6" (15cm). Cut enough 1 3/4" (45mm) strips to equal that number and join the strips together. 
5. Place the pointed edge of the fabric strip in the metal guide. Using tweezers, slide the fabric
strip into the binder with the wrong side facing you. 
6. When the fabric is through the end of the binder, hold the folded strip with your left hand and continue to feed it into the binder while the fabric forms a doublefold tape.
7. Raise the presser foot and pull the strip under the foot and straight back 2.5" (5-6cm) behind the needle. 
8. Adjust the stitch position to right or left to reach the desired needle position. Test sew a sample before sewing your project.
For more detailed instructions, and for instructions on how to sew a quilt binder corner or finish a binding, click on the linked instruction manual.